Who we are
A team of specialists with a strong expertise.

Founded almost 30 years ago, our organization has always been a leader in the composite materials market, thanks to our dynamism, our team, and our constant search for new ways of doing things and value-added materials. Whether you have specific needs in pultrusion profiles or are in exploratory mode and looking for a different technology offering possibilities that the usual materials (wood, plastic, metals) cannot provide, your search for a STRONG and FLEXIBLE partner ends here. You have found PULTRALL!
THE STORY OF V-ROD COMPOSITE REBARS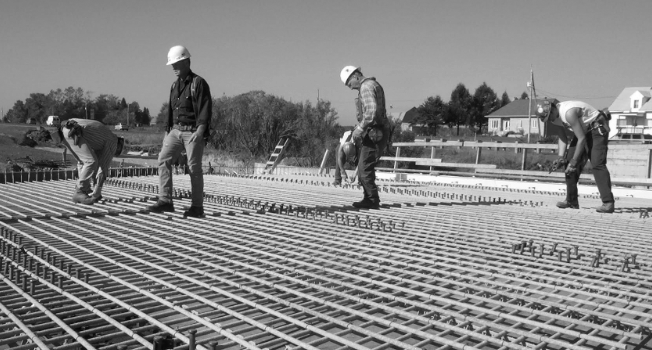 Pultrall manufactures the V-ROD reinforcing bar by combining the pultrusion process with a continuous bar coating process to achieve a roughened surface. Pultrall's manufacturing process is ISO 9001 and ISO 14001 compliant. Also, internal quality control tests are performed on a regular basis, in addition to tests performed by independent laboratories.
V-ROD composite rebars have been manufactured by Pultrall since 1987. These bars are made of glass fibers. They are very resistant in tension and are made with vinyl ester resin to resist corrosion. The fibers provide the stiffness properties to the bars, while the vinyl ester resin provides the corrosion resistance property for extreme use in chemical or alkaline environments.
A product made of vinyl ester and basalt fiber is also available for structures requiring more rigidity and other mechanical properties. Composite rebar significantly increases the longevity of civil engineering structures where corrosion is an important factor.
Compared with conventional steel bars, composite reinforcing bars are specifically optimal for the following types of structures:
• Structures subject to de-icing salts
• Structures requiring magnetic and electrical neutrality
• Low walls submerged in salt water or coastal structures
• Structures subject to corrosive agents